I am so excited to have something to post to Mr. Greg's {
Smedley's Smorgasboard of Kindergarten
} linky - Tasty Treat Tuesday! His blog is one of the first blogs I ever read and gave me the courage to try my hand at blogging!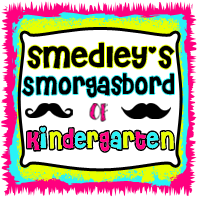 I know I posted this on Friday but it is so good not to share again! When I discovered that I was allergic (yes, I said allergic) to DAIRY one of the things I missed the most was Buffalo Chicken Dip. I mean I was even known to brave a puffy throat and severe stomach pains just to partake in one of my favorite foods! After searching and searching the web, that wonderful site called Pinterest, came to my rescue!
My Twist on Buffalo Chicken Pasta Salad
This recipe doubles the original recipe as well as makes it gluten and dairy free. Just mix and refrigerate at least 2 hours - overnight is better!
1 bag Tinkyada Brown Rice Vegetable Pasta Spirals Gluten Free -- 12 oz pasta, cooked

according to package directions
1/3 cup roasted red peppers
3-4 cups cooked chicken, cubed (I have used chicken breast that I have baked or rotisserie chicken and both are good!)
1C Vegenaise (vegan mayo - I found mine at Fresh Market and our health food store)
4-6 tbsp Frank's Red Hot Sauce (use according to taste, I like a lot!)
2 tsp Worcestershire Sauce
2 tbsp roasted red pepper brine (the juice the peppers are in)